Children's book illustrator Patrice Barton begins a picture book with a spiral ruled notebook that she soon fills with ideas, tactics and to-do checklists related to the project.
It's almost as if the words come first. The drawings, which for her are a series of tireless explorations only a tiny fraction of which make it to the book, spring forth after she's worked out the notions, notations, and marching orders for herself.
In the previous post, she told how she assembled her scraps of sketches on tracing paper to develop finals for Sweet Moon Baby by Karen Henry Clark (Knopf Books for Young Readers.) This time she reveals the earliest stages of her artwork for the picture book Mine! by well-known children's author Shutta Crum.
Released in June, Mine! is Patty's second book for Knopf.  Patty's work for Mine! is being included in the Society of Illustrators Original Art Exhibit, 2011!
At the end of our video interview minutes before class time at the Art School of the Austin Museum of Art Patty walked through the F&G's for her third Knopf title, Rosie Sprout's Time to Shine by Knopf editor Allison Wortche — due for publication in December. Here are sophisticated first graders, not babies or toddlers. With their glances, gestures, and placements on the pages, Patty orchestrates a very funny elementary school drama of evil plans, remorse, and redemption.
Watching her interpret Wortche's scenes as text gives us insight into how she thinks about her characters and re-constructs a story in its most telling images.
SCBWI happenings for your calendar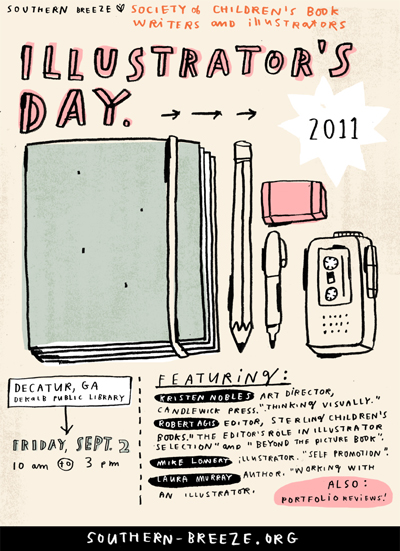 Southern Breeze Society of Children's Book Writers and Illustrators Illustrators Day   – Friday, September 2 on the lower floor of the DeKalb County Public Library, Decatur, Georgia.
Kristen Nobles, art director for Candlewick Press will give the keynote, Thinking Visually: The Illustrator as Illuminator. 
Michael Austin will mentor 12 illustrators (first come, first serve) with an assigned project before the workshop. Also featured will be Robert Agis, Editor from Sterling Children's Books, Illustrator Mike Lowery speaking on Self Promotion and Sketchbook, and picture book author Laura Murray. There will also be a portfolio review.
The Annual SCBWI Eastern PA Illustrator Day, Saturday, September 24 is a one day intensive at the University of Pennsylvania Golkin Room,  at the Perelman Quadrangle featuring Clarion Books senior designer Kerry Martin. Kerry's workshop involves an exciting pre-workshop home assignment. You'll receive the assignment when you register. He and illustrators agent Kirsten Hall with The Bright Agency will be doing portfolio reviews.
Storytelling in the Digital Age – Embrace the Change  – Saturday, October 8 at St. Edward's University, Austin Texas. Austin SCBWI symposium on the fast-evolving e-publishing scene features presentations by professionals who are doing it in the Austin area and the key address, via Skype by SCBWI Executive Director Lin Oliver, SCBWI  and Digital Storytelling.
Other scheduled sessions:
Creating and Maintaining Your Web Persona by Erik Kuntz,
Standing Out in the E-book Crowd: Storybook Apps, Enhanced Content, and Digital Marketing Extras by Deanna Roy
Your Story as Electrons: Breathing Life into Words in the Digital Age by PJ Hoover
There's an App for That by the illustrator and art director of  Spider, the Secret of Bryce Manor  Amanda Williams
How Do They Do That? Creating Digital Books by Meridith Blank Taylor
From Oop to App: The Transformation of Picture Books to Apps by Lindsey Lane
Paper to Pixels: The Art of the Digital Paintbrush presented by Clint Young

Extranormal: The Storyteller's Dream Software by Zack Gonzales
YouTube and the Science Behind Visual Learning by Joel Hickerson
Storytelling in the Digital Age: Imagine by InteractBooks' Ezra Weinstein
Children's Book Illustrators and Technology by the Girllustrators
Social Media 101 by Nick Alter
Getting Discovered: Why You Should ABSOLUTELY Give Your Stories Away for Free by Bear James
Traditions and Technology: The Transformation of Children's Publishing is the theme of this year's North Central/North Texas SCBWI regional conference, October 7-8 at the Fielder Road Baptist Church in Arlington, Texas. The Saturday event features Simon and Schuster art director Laurent Linn, a line up of editors from Scholastic and Random House, an agent from Andrea Brown and authors Bruce Coville and Tammi Sauer.
More fine notes
Illustrator Amy Farrier's blog Three Ravens Press has a great interview with talented illustrator and Etsy artist Audrey Lopata. Audrey meanwhile, interviews illustrator Dallion McGregor on her blog with fun results. (Dallion was recently interviewed here about his winning logo design for the Storytelling in the Digital Age Symposium.)
School Library Journal asks Brian Selznick about many things, including his new illustrated children's novel Wonderstruck  (Scholastic) and the Martin Scorcese movie adaptation of his Caldecott Medal-winning The Invention of Hugo Cabret. Read the story here.
An online course on illustrating children's books, Make Your Splashes – Make Your Marks! shows you how to draw nearly anything, unlock beautiful design and color in your art, and what to do, step by step when you land that assignment to illustrate a story for a book, magazine, or digital product. You can read more about the course here.